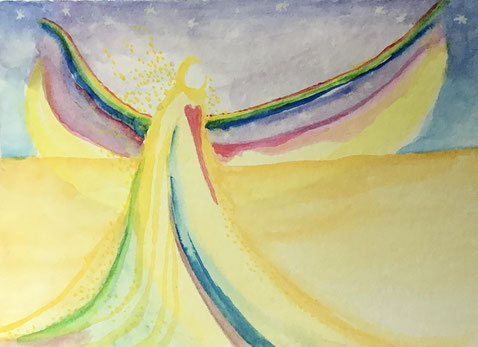 This was a practice piece, just trying out some watercolours. But I find the image intriguing because many ideas are awakened by this image.
Is it a person ready to die, the soul waiting just on the horizon to board to new planes of being? 
Is it a dreamer?
Is it a lonely person in the desert and searching for a vision?
I decided that this image can be all of these things at once and to me it is an image of the personification of love.
To me Love is fed to us through our hearts and we walk with this, bring it to earth.  Living in a loving way is sometimes a lonely experience. Loving means sometimes being silent, in the background and also compassionate to those around, while at the same time connected and in light, vibrant with inner color.  These are turbulent times and this image and what it represents gives me some strength. I thought it would be worth sharing.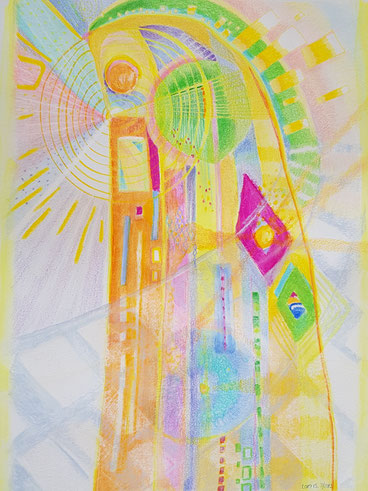 This mixed media drawing is about the teacher within. This inner teacher is within us but also above us, illuminating our unique path. The inner teacher finds the link between living what is best for us as individual but also what is best for all. So this guide can offer calm in times of upheaval, confidence when no outside reference is there to encourage us. The inner teacher keeps the door open to creativity, spontaneity and freedom.
The trickiest thing about the inner teacher is keeping the lines open. It is the energy that reveals where your light shines, without diminishing anything or anyone else.